You have found the perfect location for your restaurant, hired the best team in the industry, and planned your menu and concept. The next step in your restaurateur adventure should be to engage the services of a top interior design company to work alongside you to transform your restaurant from drab to fab.
The ambience of a restaurant is an important determinant factor in whether or not you are able to retain customers. It is what shapes customers' dining experience, including how long they stay in the restaurant, how much they order (ie. How much they spend) and how they view the food that they are served.
Restaurant concepts range from bistro style cafes to high-end luxury dining. No matter what concept you choose to implement for your restaurant, the key to successful interior design is in how well the functional and aesthetic aspects come together in perfect harmony to create a space that is not only comfortable for customers, but one that also contributes to improving their overall dining experience.
In this article, we will take a look at some luxury restaurants and highlight some of the design elements that have worked in taking them to the next level.
1. Lighting
While restaurants are essentially a public, commercial space, customers do still want to feel like they are at home when they dine out. The best way to make a place feel intimate and cosy is through the use of lighting.
Low, dimmer lighting works well in upscale establishments where the target clientele tends to be less noisy. This type of lighting is great in allowing customers to feel more segregated from others and contributes to making the space (and the customers themselves) feel more relaxed.
2. Colours
Colours elicit psychological responses from people, making it even more important that simply adding to the aesthetics of a space. The branding of a restaurant, together with the ambience and image that it brings to customers are all dependant on the colour palette of the restaurant.
For example, bright colours like yellow, vibrant red and orange are effective in bringing up the heart rate, blood pressure and appetite. These colours rouse people, inducing activity and energy. This is why bright colours are great colours to use for fast food eateries and/or casual bistros where the goal is to get people to eat more and eat quickly.
Conversely, for more luxurious, high-end restaurants whereby the goal is to have customers stay longer and eat more in a comfortable and leisurely environment, the following colour schemes should be considered:
Light Colours – Upscale restaurants will benefit from light colours like beige, pale yellow, light grey, as it not only makes a space look larger, but also creates a relaxing mood.
Dark Colours – dark colours like earthy brown, navy and dark green work best in creating a space romantic and cosy.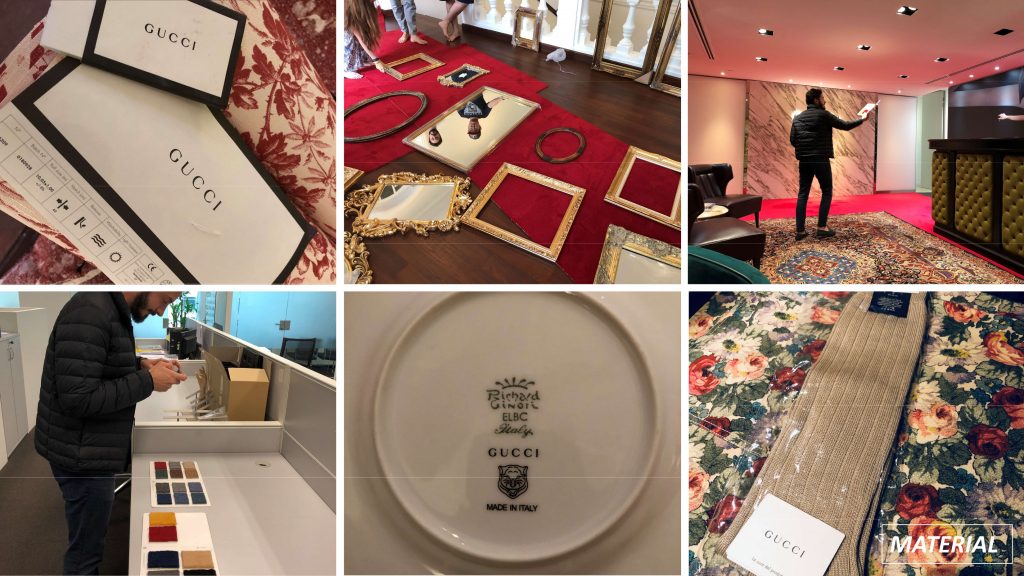 3. Décor
The devil is in the details and this has never been truer than when it comes to interior design. This is especially so in this current time of Instagram when a beautifully decorated and designed restaurant is a must-have for social media success.
In designing luxury restaurants, the furnishings and decorations must, undoubtedly, be high-end as well. Think modern, stylish leather chairs and couches, silk material for your cushions or curtains, opulent tableware and jaw-dropping lighting fixtures.
Additionally, while you may have opted for more expensive and extravagant furnishings and decorations for your luxury restaurant, it is equally crucial that attention is paid to the maintenance and upkeep of these furnishings. No one likes to sit on a chair with cracks in the leather surface or eat from a plate that has had a bit of it broken off the sides. Remember it is all about providing customers with a pleasant dining experience.
4. Layout
It is important to first know what your restaurant concept is before working on the layout of it. For example, in casual dining restaurants where large groups of customers such as families or friends enjoy eating at, you can plan for the restaurant layout to have space for booth seats and larger tables for communal dining.
Luxury restaurants cater to a different clientele who tend to prefer more intimate seating that isolates them from other diners, providing more privacy. In this case, it is advised to have tables arranged further apart.
Ultimately, the functionality of a space is of the utmost importance when it comes to the layout of a restaurant. Both staff and customer alike should be able to manoeuvre efficiently in it and be able to quickly identify their way around, for instance, from the waiting area to the dining or bar area for customers, from the kitchen to the dining hall for staff.